high pressure coolant systems high volume coolant systems chip removal high force blaster coolant systems high speed machining high velocity coolant systems high pressure coolant systems, high volume coolant systems, high force coolant systems, chip removal and blaster
High Pressure Systems Co.
A division of The Daniluk Corp.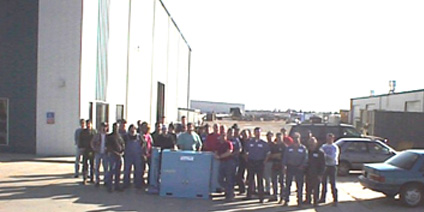 High Pressure Coolant Systems
Our high pressure and high volume coolant systems will help you solve problems with heat, chips and lubricity to effectively eliminate damage to your tooling and improve your productivity while reducing you tooling costs. This technology has been proven in many of the top manufacturing companies in the world. We can help you implement this technology at your company. Give us a call and we can help you lower your tooling cost while you improve you productivity. We have helped other companies - let us help you.
Company Profile
The Daniluk Corporation has been in the machine tool rebuilding and retrofit business for over a decade. Our understanding of CNC machines and controls is unparalled in the high pressure industry today. With a staff of over 40 professionally trained technicians, we have the ability to adapt our systems to your machine tool whether it's old or new.

High Pressure Systems
A Division of the Daniluk Corp
8200 SW 29th
Oklahoma City, OK 73179
Office (888) 745-6647 & (405) 745-6644
Fax (405) 745-6646
Email -

LE FastCounter
Daniluk © 1998